Do We, Don't We? Things To Consider Before Caravanning With Pets.
Camping and caravanning holidays are fantastic ways for families to enjoy the great outdoors together. For many, one thing holding them back from hitting the open road is not wanting to leave their beloved family pet behind.
The great news is, provided your pet likes to travel, Australia offers an abundance of pet-friendly caravan and camping destinations. This blog looks at what you should consider in preparing to take your cat or dog on a caravanning road trip.
Is Your Pet Cut Out For Life On The Road?
Before deciding to take a pet camping, you need to take stock of what you know about your cat or dog. How well do you know your pet? Here are some questions you should answer to determine if it will be safe and in your pet's best interest to join you on a caravan holiday.
1
Does your pet suffer from motion sickness? Some cats and dogs get car sick just like some humans do. If you're going on a lengthy road trip with them, it's a good idea to take them on a brief practise drive prior to observe their behaviour. You will also need a plan on how to help your animal friends travel with minimal distress to reduce any car sickness.
2
Does your pet suffer from anxiety? Animals prone to severe separation anxiety or anguish over routine changes or who fret when away from home or around strangers don't tend to travel well. Taking a highly anxious pet on a caravan holiday may be traumatic for all involved, so you might want to consider finding someone they trust to care for them in your home while you are on holiday.
3
Can your pet be walked on a leash? Because camping occurs in new and novel natural environments, to take your pet for 'walkies', they will need to be on a lead. If you haven't trained your cat or dog to walk nicely on a leash, this will be a problem.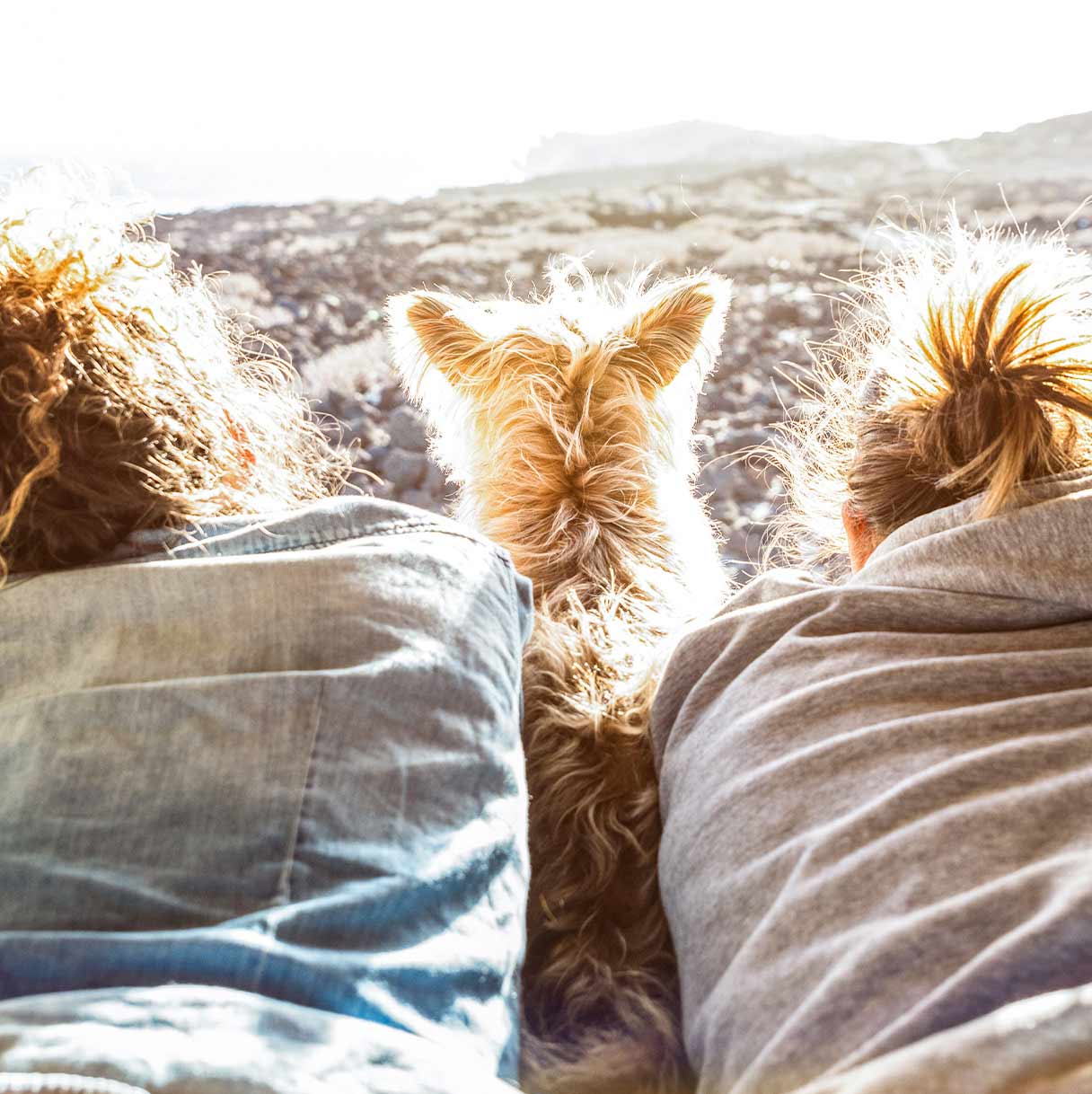 4
Does your pet play nicely with others? If you are planning to stay in a pet-friendly caravan park, chances are you'll be sharing the facilities with other families and their pets. If you know your dog gets protective and aggressive around other animals or humans they don't know; this will be a problem.
5
Is your pet obedient / do they respond instantly to voice commands? Does your cat or dog come when you call their name? Camping can present many temptations for your pet, from smells from a nearby BBQ, water bodies to jump in, other animals to chase, or children to play with. If a family member accidentally leaves the caravan or enclosure door open or drops a leash, your furry friend could shoot off like a bottle rocket. For their and others safety, they must respond to verbal commands so you can quickly regain control over them.

Planning To Take Your Pet On A Caravan Holiday
Use the following suggestions to help you make a detailed packing list and trip plan before you leave to ensure you have covered every instance you can think of to keep your pet safe and happy while on holiday.
1
Make sure your pet is completely vaccinated, wormed, has current registration, and their microchip information is up-to-date. Keep a copy of your animal's immunisation record in your glove box in case it needs to be kennelled in an emergency.
2
Pack several leads, harnesses and make sure your pet's name and contact information are written clearly on a name tag fastened to their collar.
3
Check you have the necessary equipment to carry your pet safely while travelling between destinations. Cats and small dogs are best transported in a pet carrier with a light blanket over it to keep it dark to calm them. Larger dogs need an appropriate car restraint. In a sudden stop, a 30kg pup in the back seat rapidly becomes a 30kg missile, so to keep the whole family safe, look at fitting your vehicle with a dog car harness or cargo barrier.
4
Pack your pet's personal care, medications and grooming equipment such as brushes and shampoo, along with plenty of toys and blankets to keep them entertained and reduce anxiety.
5
Travelling to rural and remote areas will likely limit the supplies available for purchase on the road, so pack enough of your pet's favourite food and treats to last the entire trip.
6
Pack a litter box and litter for cats and for dogs a 'pooper scooper' and LOTS of dog poop bags, which should be kept readily at hand in your car, wallet, caravan, handbag and attached to their leash. YOU MUST PICK UP AFTER YOUR PET. Dog and cat faeces contain harmful parasites that can injure or kill native wildlife and let's face it, who wants to step in dog poop on the way back to camp!
7
Prepare your caravan to be your pet's temporary home, designate space for their bed, litter box, water and food bowls, and include an appropriate portable enclosure to allow them to enjoy the outdoors while keeping them and local wildlife safe. For a caravan with the ultimate built-in separate pet zone, check out the
Supreme Basecamp
.
8
Research destinations to ensure you have a pet-friendly itinerary. There are many beautiful camping spots and caravan parks in Australia that allow well-behaved pets. There are also dog-friendly State Parks for those who wish to go a bit further off the beaten path with their four-legged companions. Check the website or contact the management at all places you plan to visit to learn about any camping rules or restrictions that may apply to your pets. It is also good to double-check during school holidays and peak seasons, as these restrictions may change.
9
Most caravan parks do not allow you to leave your pets unattended because they may disturb the serenity of other holidaymakers in the area. As such, you will need to have a plan for keeping your pets happy and safe if you are looking to visit any local attractions or attend an event that isn't dog-friendly. This may include partnering with other campers and offering to pet-sit in exchange for them pet-sitting for you. You can also try hiring a local pet-sitter or booking your dog or cat into a local kennel or cattery for the day or overnight. Not every area will have pet supervision services available, so be sure to check ahead, so you aren't scrambling at the last moment.

Final Thoughts
There is no point denying it; taking pets on a caravanning or camping trip can be challenging because they can easily become overstimulated by the different sights, smells, creatures, and people they encounter. That said, your pet will love going on holiday as much as the rest of the family if you plan ahead!
During long journeys, make frequent rest stops every 2 hours to allow your pet a bathroom break and to stretch their legs with a short walk on a lead and have a refreshing drink of water.
Wherever your travels take you, be sure you respect the rules and regulations and be considerate of your fellow campers by not letting your pet take over the space or become a nuisance by minimising any barking and anti-social behaviour.
Always keep your pet under control and on a leash, both for their safety and the protection of those around you and the local wildlife. Pick up any dog faeces immediately.
Take a look at our range of pet-friendly caravan models at your nearest Supreme Caravans Dealership.