Caravaning for the first time? Here are some helpful hints!
With coronavirus playing havoc on international travel, taking a trip in a caravan is becoming an increasingly popular holiday choice among Australians.
First-time caravan owners must familiarise themselves with the basics of towing and other aspects of caravan operation to ensure they have a safe, worry-free trip. Here are some considerations to make for those new to touring holidays before heading out on the open road.
The tips we will share in this blog can also be helpful for more experienced but out-of-practice campers to brush up on the latest safety guidelines and skills to make the most of your next caravan excursion.
Choose the right towing vehicle.
Before embarking on your first caravan journey, it's critical to ensure that your chosen tow vehicle is capable of transporting your brand new caravan.
Ascertain that the maximum towing capacity of your vehicle is sufficient for the caravan's maximum laden weight or Aggregate Trailer Mass (ATM) rating mentioned on the trailer plate by checking the manufacturer's website or in your owner manual.
A towing capacity that is significantly greater than the van's loaded weight is prefered. The Tow Ball Mass (TBM) rating must also be adequate, even when the tow vehicle is fully laden, with water tanks full and all your packed camping gear inside.
Bear in mind, TBM constitutes part of the vehicle's overall payload and is a portion of the vehicle's rear axle load. These vehicle ratings must be taken into account when calculating your overall towing weight.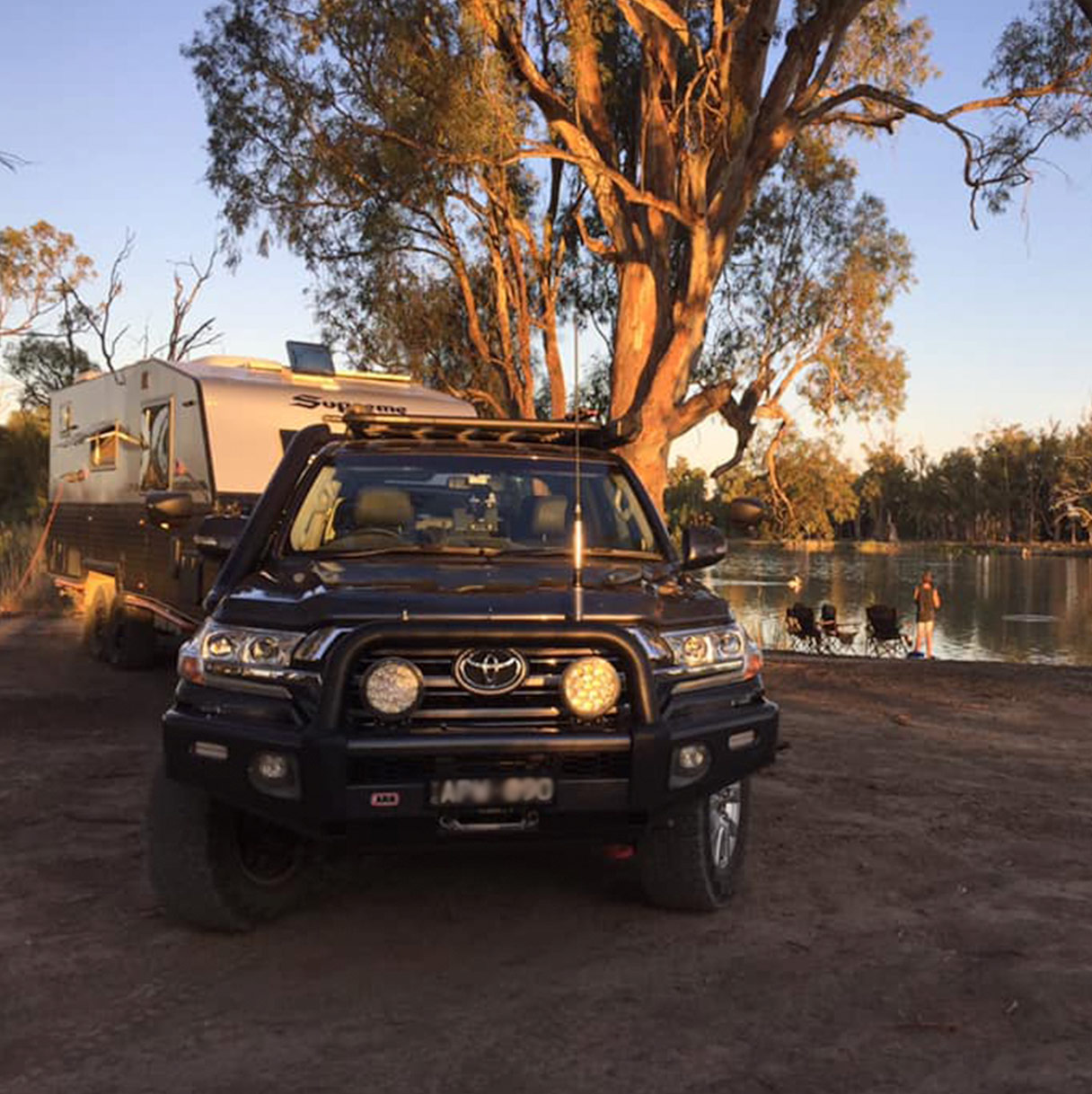 It's a good idea to get a car with the maximum towing capacity possible, even if you don't anticipate ever needing it. The vehicle will generally have more reserve power, weight, and stability to provide more relaxed towing. Additionally, it will give you some wiggle room if you decide to upgrade to a heavier caravan in the future.
The tow vehicle should ideally be as heavy as, if not heavier than, the trailer or camper it is towing. Diesel engines typically provide superior overall performance and fuel economy, and efficiency when towing.

Consider upgrading your towing vehicle.
Rather than buying a new tow vehicle, there are several ways the performance and durability of your existing tow vehicle can be improved.
When towing a large trailer, your vehicle's transmission will run hotter, therefore installing an aftermarket transmission cooler may be prudent.
Upgrading your vehicle's suspension with heavy-duty front and rear springs and shocks or airbag rear helper springs will help enhance the ride when towing.
Because a significant towball download might significantly reduce your vehicle's payload, a Gross Vehicle Mass (GVM) increase may be necessary for some situations.
Additionally, a heavy-duty radiator, a long-range fuel tank, engine performance enhancements, and the installation of higher-quality brakes are all things to consider as part of a towing upgrade package.
You may not give much thought to your braking system, with a well-adjusted disc/drum setup on most modern towing vehicles being sufficient in most circumstances, especially when the trailer brakes are properly set up. However, fitting slotted disc brake rotors and high-performance brake pads can increase the braking consistency of a tow vehicle, particularly while descending mountainous terrain.
Have a pre-trip checklist.
Because many camper owners may only travel a few times a year, it's likely that you'll overlook something important before hitting the road. Therefore, if you're planning a vacation in a caravan, it's a good idea to keep a detailed pre-trip to-do list.
A caravan inspection checklist is the simplest way to prepare for a safe start to your caravanning journey. It can help remind you to make sure your gas bottles are switched off before you leave, check your caravan's connections, water tanks, and rear lights and make sure everything is in good order.
A pre-towing checklist can help reduce the likelihood of heading out on the highway with a side locker door accidentally left open or the pop-top roof up. It will also help guide you through all the checks to secure the tow link properly, so you don't become uncoupled going over the first bump.
When planning a trip, create a detailed checklist that includes items to remember before leaving home, during the actual journey itself, and at the end of the trip.
You'll also need to think about how you're going to pack your caravan so that you don't end up overfilling it or unbalancing it, causing a sway during towing.
Avoid storing bulky items in high cupboards; instead, use them for smaller ones like clothing. If you're unsure if you've packed too much, head to your nearest weighbridge; if it's heavier than the legal limit, you'll have to reduce the cargo.

Learn how to tow.
Towing a large caravan can be intimidating, let alone deadly, if you don't follow a few simple principles. As with most things in this life, practice makes perfect, and it's better to begin cautiously with a few short local trips before heading out on the great open road.
Keep an eye on your speed and frequently check the towing mirrors to ensure your caravan is tracking safely behind.
Overtaking causes a high number of caravan accidents; therefore, consider twice before doing so. While there are times when it is safe to overtake while towing a trailer, the risks are multiplied when you are trailing something as enormous and unpredictable as a caravan.
Road conditions (and prevailing winds) can have a significant impact on towing stability. Provided your rig is well balanced, your should aim to stay between 90 and 100 kilometres per hour on the highway to avoid wobbling or swaying.
Large trucks and road trains passing can generate enormous bow waves of air that can push your van around, so leave as much space between your rig and heavy trucks as possible.
Do not panic if the caravan begins to sway. If the wobble is slight, gradually ease off the pedal until the vehicle resumes its proper track. In the event of a more severe sway, you should activate the van's electric brakes by pressing the override button or switching on the electric brake controller while maintaining steady accelerator pressure.
When towing, provide plenty of time for breaks. Avoid being overly optimistic about the distance you'll travel in a day; keep in mind that you'll be travelling slower than you would if you were driving without a trailer.
Even if your caravan comes equipped with a remote-controlled, wheel-driven mover, you'll need to master the art of caravan reversing. At first, reversing a caravan may feel counterintuitive; however, it is not difficult to learn if you're patient and diligent. A wide, unoccupied parking lot marked with indicators such as safety cones is an excellent place to begin.
Even better, if you're brand new to caravanning, a professional towing training course is an excellent confidence booster. Ideally, anyone planning to drive the towing vehicle should receive hands-on instruction on performing basic safety inspections and towing maneuvers such as reversing with a camper.

Getting ready for a successful first caravaning holiday.
It is highly recommended you have a "dry-run" camper set-up at home or in a nearby park before heading to a busy vacation campground or caravan park to avoid potentially hours of frustration trying to set up your caravan for the first time.
Things like raising and folding the pop-top, opening and closing the awning, dismantling jockey wheels and winding corner stabilisers, should be practised until you feel confident. Make sure you know where any tools that were given to you by the caravan manufacturer are located.
Have a copy of any appliance manuals on hand in case you need to troubleshoot any issues on the spot. Make sure you bring everything needed, such as tap fittings and hoses, to connect to the water supply at the campground.
Your RV toolbox should include stuff like pliers, screwdrivers, vinyl tape, cable ties, and WD40 to tackle all the minor last-minute repairs and adjustments that happen on road trips.
When driving, you will likely be used to the height of your vehicle, but towing a caravan can add significantly to the clearance needed to pass safely under obstacles. So keep an eye out for overhanging branches and pay attention to bridge clearance height restrictions.
Before selecting a place to set up your caravan, have a look around the campsite for any potential hazards, such as water taps protruding from the ground.
If you find yourself having difficulty, you will usually find that your fellow campers are generally a friendly and helpful bunch and often will be more than willing to share a tool or lend a hand if asked nicely. Many RV park operators will even assist you in parking your vehicle in a tight space.
Importantly, don't ignore campground and trailer park rules and etiquette.
Most caravan parks have a night-time curfew in place; if you arrive too late from an outing, don't be surprised to find yourself on the wrong side of a locked gate.
Running a noisy, smelly generator all day is not likely to win you too many friends; if possible, book a site with power available or use solar and battery appliances as much as possible.
Keep you and your camping gear well within the perimeter of your designated campsite.
Keep an eye out for any runoff water, loud pets, or children who may be annoying neighbouring campers.

Maintaining your caravan.
Between camping trips, your caravan's exterior should be shielded from the elements by a weather-resistant cover or shelter.
Some parts of Australia can experience severe weather, including damaging hail storms, so choosing a caravan cover with an inner-foam liner can help protect your valuable investment.
The best option is a custom-made cover, as some of the less expensive ones can scratch the caravan's exterior.
Caravans, like automobiles, benefit from routine cleaning and polishing to keep their exteriors looking good. Additionally, keep a lookout for deterioration in external sealant over time to ensure no leaks develop.
Although caravans have fewer problems than motorised RVs and motorhomes, they nevertheless require routine repair and maintenance.
For those who have the tools and the know-how to do their own caravan upkeep, it might save you money to grease, replace, or tune the drum brakes. More complex tasks, such as patching up cracks in a chassis or sealing off damaged external panels, are better left to the pros.
Before embarking on an extended vacation, especially if your caravan has been in storage for a while, it's sensible to have a general service done to check that everything is in safe working order.
Your local Supreme dealer can provide expert advice on purchasing a new or used caravan or can help you book a service or repair.